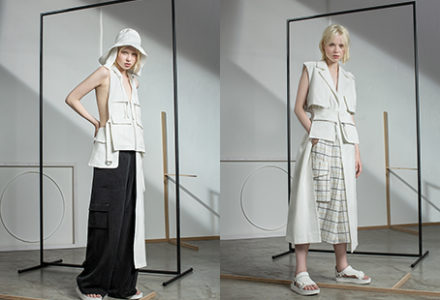 august's ss19 collection will be at revolver in copenhagen, 8-10.08
the center of the inspiration of august's new collection is futuristic minimalism, virtual illusions and experiences, references of the 80s sci-fi cult movies, and boundaries between dreams and reality, which lead to augmented experiences and immaterial wellbeing.
"the aim of this collection was to bring together ultra-sporty wardrobe details and innovative lightweight materials, which are mixed with sensual futuristic elements, to create a contemporary yet functional collection," adds äli kargoja, the head designer and founder of august.
most of the fabrics used in the new collection originate from the fabric mills of japan, italy and turkey. blends of cupro and linen, silk and organic cotton, lightweight hologram organza meet in an astral palette of metallic transparency and radiance. the brand continues to use unique and carefully chosen sustainable fabrics and therefore gots certified organic cotton and bamboo jersey remain as the core of august's basics range. all the items have been designed and produced in estonia.
august's ss19 collection will be showcased at revolver in copenhagen (event hall, stand number 168). the trade fair will take place during august 8-10.
photo credit: maiken staak